Hands on FIRE!!!!
My hands are currently blazing with a constant prickly heat thanks to waking up this morning with a sudden realisation that I wanted to cook today and then proceeded to chop a whole load of chilli to put into my tuna mix for the tuna sandwich.
Yesterday was a busy busy day.
Lunched and shopped with Ingga..Mae came all the way to my place by herself and I picked her up at the bus stop. Had coffee and cheesecake with the both of them before a reading.
It was
Chris' 21st
at night, but at the same time,
my cousin was gonna be at The Bank
just down King St...so basically, I was expected to be at two places at night. I went for a quick one at The Bank, hoping to finish off at Chris' party so I can just pop back into my room to pass out.
Said a quick hi and bye to Chris on my way out when his party was just starting, and by the time I got back to the party
an hr and a half later,
he was not there anymore.
Poor guy passed out
.
Quickly got myself a few cups of drinks to get myself a little buzzy.I don't know if its the fact that the punch was a lychee+goon+tequilla+etc mix (which tasted really good) or that I havent had drinks in FOREVER, but anyhow,
it didn't take much to get me buzzed
.
Anyhow, spent the time with
Mae
and
Ingga
, 2 fabulously wonderful girlfriends who provide quite the entertainment!!! VERY unfortunate that Mae had to go home. Seriously, Mae, you can come bunk!!! Anyway, will let some pics do the talking.
That was back at the party before we left to see Mae off to the bus stop.
Mae had to get cereal otherwise she'd starve the following day. We did what girls do best when there's a bus stop and ALL the time in the world!!!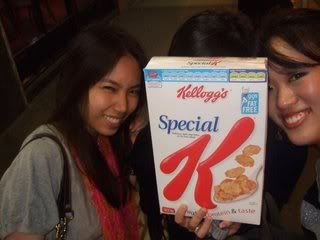 Ingga looks SOOO CUTE here!!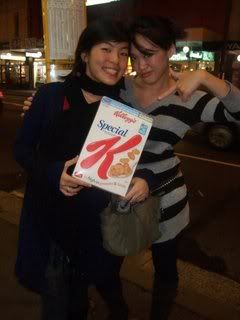 Gotta love Mae!!! Look at that smile!! :)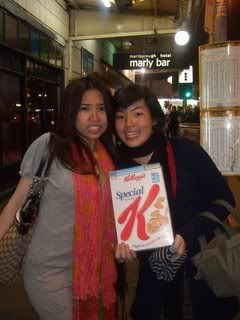 Ingga and I headed back only to find the party dead. So we hung out with a whole bunch of ppl outside the party place. Here are a few of them.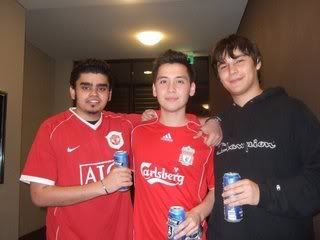 The MU Fan.. The *newly single* Liverpool Fan.. The Non-Football Fan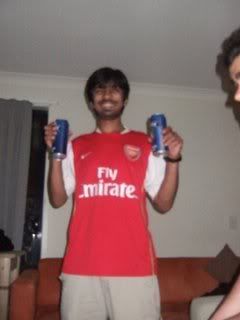 The Cricket Fan
We decided to leave, and decided to mark it with our last few pics..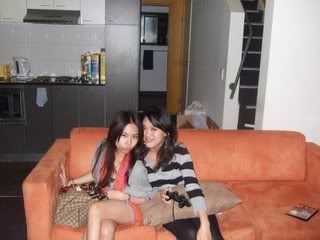 Ingga pout.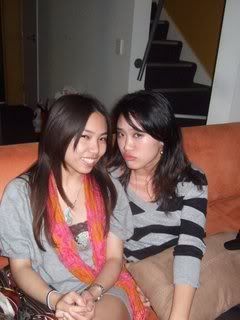 Shuen pout. Shuen should just leave the pouting to Ingga.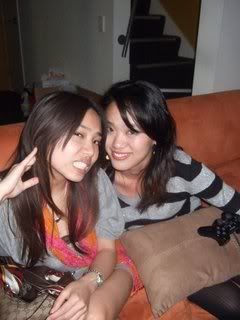 All smiles!!!!
I just came to a sad realization that I can pose so much better when I'm tipsy.