Night out at Cargo
I've found the secret to a good night out!
Wanna know wat it is??? wanna know? wanna know?? hehe
Start the night with a
tequila shot
followed straight up by a shot of
chartreuse
(since they dint have a bacardi51) straightaway.
Loosened me up quite a bit.
Finally started movin again!
Started dancin a little.
Started laughing a little.
Found a drinkin partner
too!! :)..
Behold..
Mr. Julian ..
Well, obviously not Mel's Julz..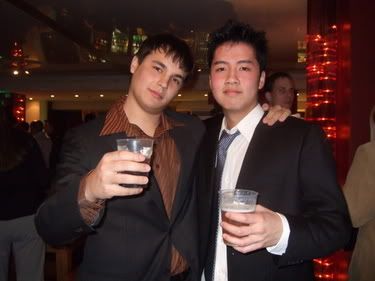 *guy on left* Photo taken from CEO&corporate women nite.

You went for a shot without me, you bastard! its not fair.. you broke our pact! :P
I miss my camera
. It just isn't the same without a camera to capture wonderful moments with wonderful ppl. It also sucks always having to get pictures off ppl. All the trouble.
Dancing wid Anan is fun
. He's all out there, all loud moves, good moves.. good stuff! I think he was another factor I was dancing.. hehe
Man..
its been raining the past week
. How
depressing
. I'm letting
Girl, Interrupted
run on the comp. Not watching it coz I went off for a while to make lunch.
Gonna go out to eat(again!) and watch
Lady in the Water
or something like that in a while.
Chill out day
for me. I like. Although I'm bothered by the tiny voice at the back of my head reminding me about exam on Monday. :( Damn. Sigh.