S.E.X.P.O.
I had no idea what to expect, but as soon as I walked through the gates and was greeted with a bare breasted promoter, I knew it wasn't for the faint-hearted.
Being a virgin to events such as these, I came out very much more educated.
LESSON 1
Vibrators are NOT CHEAP!!!

They were averagely about
AUD$60!!!
And those were the prices
after discount!
I always thought they were like about 30 to 50 bucks.
.. I think that's basically where the lesson ended.. and experience started..
Stalls were selling everything and anything to do with sex. Its very much like the exhibitions in Mid-Valley, except this is much bigger.
I was highly entertained through the
Male Amateur Strip Competition
. It was
HILARIOUS!
Line 10 guys up and ask them to strip down to their thongs, and you'll get all sorts of nonsense. From
peekaboo dicks
to
body rolls
to
gyrating each other's hips Brokeback Style
.. it was all very very amusing. I could hardly stop laughing!
Even my guy friends preferred the Male Competition compared to the
Female Competition!
There were just a
measly 5 girls
up on stage, and non quite so droolworthy save 1. Eventually, the
MILF
won the Female Strip Competition.
Of course, one of the main highlights was the performance by
Miss Nude Australia, Arianna Starr.
She was
HOT!!!
Man, what I'd give for her
BUTT,
POLE DANCING SKILLS
&
BOOBS!

Took pictures with
topless girls
from
PLAYERS SHOWGIRLS.

The girls loved my openess and enthusiasm,
one of them placed my hands on her boobs,
making my
3 other guy friends green with envy
.
As we were leaving, the photographer discreetly slipped this into my hand..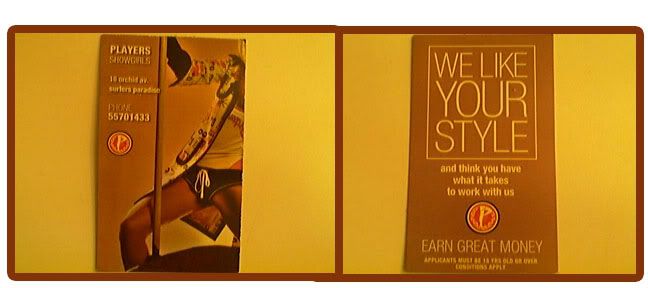 Sigh.
I dont know whether to be flattered or insulted.
GOODIES!!!!!!
Its a SEXPO. Of COURSE I had to get something!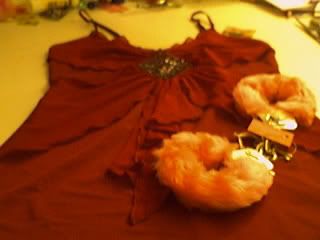 A little red dress + pink fluffy handcuffs!!!
:D
I wanted to get so much more, but I didnt bring enough cash. I didn't expect to spend that much!
*stretch*
I just finished
tidying my room!

I can FINALLY see some of the grey floor carpet again!!!
The princess needs some sleep now!
NITE PEEPS!!!!