Bad things come in 3's
1. Went back to get the
GORGEOUS black and white polka dot dress
that
I LOVE SO MUCH!!
Only to find out that the store has a 50% off everything deal, and the dress got sold.. :(.. I don't even like polka dots for goodness' sakes!!.. the dress is THAT beautiful!!!
2. Tried catching
X-Men III
but the times turned out bad.
3. Walked to get my favourite
taro pearl milk tea from Eazyway
, but the store was closed, like, JUST closed.
The thing that I'm
MOST
and
STILL bummed out about
is my
DRESS!!!
I should've gone back the day after!!! Dammit!!!
*whine*
*sob*
*throws tantrum*
*punch*
*scream*
Alrite.. running out of childish things to do..
-----------------------------------------------------------------------
Titter tatter
1 paper down... 2 more to go!! Wheeeeeee...
Family Guy
is random as hell..
Everyone's so stressed out during exam period.

Wish I could be as stressed and diligent in my studies.
Feeling so restless esp when everyone's cooped up and not coming out.
No one wants to play with me.
*sob*
Note : Alex is scary during Exam Period.

Slept for a total of
17 hours
straight last night!
Went to bed at 7 in the evening.. got up at about 12..
Alex played with my
BBQ sauce squeeze bottle
.
He looked at it, and squeezed..
*poooofftt*

The bottle
farted
in his face!!!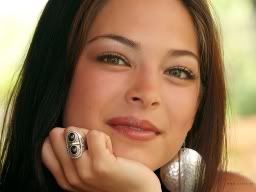 Bimbo moment of the day :
Did you know she's half Chinese?You know what that means???It means that *I* can look half as good as her!!!