Anal Sex works better on GUYS
Was out with one of my
gay friends
the other day. I
love
my gay friends. They are absolutely
wonderful
, and most of the time,
gorgeous!
I mean, yea, sure, that
SHOULD
be a pain considering the
loss of
one good-looking guy
in the heterosexual pool.. But, still..Every girl should have
at least
ONE
gay friend!
Anyway, one thing led to another and we were talking about
sex.
I'd ask him if he's the one who fucks or gets fucked. Pretty crude, I know..haha..
Then he told me..OK, listen to this..
If done RIGHT, the guy recipient of anal sex CUMS WITHOUT HAVING TO PENETRATE!

OK, I don't know if most of you guys knew that, but..
I didnt!

Apparently,
pressure
of the dick
on the prostate gland
causes a guy to ejaculate.
The prostate gland is positione
near the urinary bladder
.. just a rough idea where it might be..
Go try it!!!!
:)
*chants*
Go try it..
Go try it..
Go try it..
I KNOW you want to.. :)
Up your arses, guys!
See,
GIRLS
should
give GUYS anal sex
instead of the other way round.
Coz girls ain't got no PROSTATE GLANDS, yo!

------------------------------------------------------------------------------
Is it SO HARD?
Culture dictates that
Westerners
, in general, are
more open about their affections
than us ppl in the East.
Or so I thought.

I've grown up very open about my feelings. I have no problems saying
'I love you'
to my friends or my boyfriend.
I grew up giving my parents
nightly hugs and kisses,
even til now, at the age of 18. And I'm not ashamed.
Hell,
I'm proud of it!

So, imagine my surprise when I found out that a caucasian Australian friend of mine has only said the words 'I love you'
2 or 3 times in his/her life.
He/she is
very open about PDA
(public display of affection) and is one who's
generally
very open-minded.

So that came as a
SHOCK
to me.
I can't count the number of times I've said 'I love you'. I've said it one too many times. And I've
meant it every single time I've said it.

I think that those words are
important
in a relationship
past a certain point
. Yea, sure, I don't expect a guy I've been dating for a couple of weeks to tell me that.
But, surely,
after a couple of months?

Anyway, it just goes to show that one really
cannot generalise
.
Like how seeing an
Asian guy yank the hair of a girl walking in front of him
does
NOT
mean that
ALL Asian guys don't like their girlfriends walking in front of them
. ;)
In fact, to show you how
polite
some of my guy friends are, please read
this
. Yes, yes, you Cempakan guys can gloat again. :)
-------------------------------------------------------------------------------
MONEY, MONEY, MONEY!!
I just saw a 'contoh' (examplary) photo of the
Kuala Lumpur 98-XVI Commonwealth Games RM50 Commemorative Polymer Banknote
the other day, and something clicked. It looked
VERY MUCH
like something familiar!
The Kuala Lumpur 98-XVI Commonwealth Games
RM50 Commemorative Polymer Banknote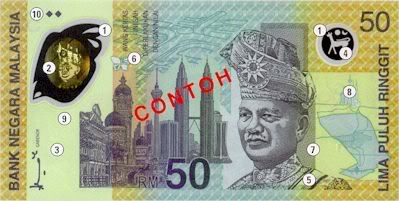 What it looks like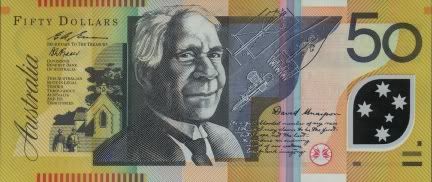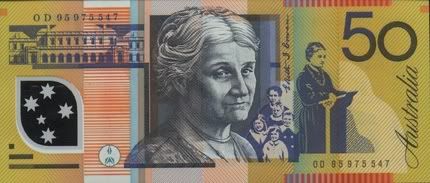 ..the AUD 50 note!

Dontcha think?