UNWANTED WAKE-UP CALLS
in the
middle of the night
when you're
sleeping like a baby
is so not funny.
Especially when you've been having
strange, weird, scary dreams most nights,
and this is the
one very rare night
when you actually have..
NO DREAMS!
Sighz..sometimes the
time diff
between Msia and Aus gets to me. Got a call from Jay to tell me he's going gaming.
Hehe.. nothing against you, Jay. Still, meh tumse pyar kerti hu!!!
A call that lasted
5 mins
kept me up for the next
2 hrs.
And now, at
2.52 am
, I'm like that..
O_O
So I shall
list more life's simple pleasures that make me happy...
(from
previous entry
)
6.
Receiving
long e-mails
from friends. Getting
international calls
from friends far, far away in a different country.
7. A cold shower in summer.

8. A hot shower in winter.

9. Sitting around in cafes drinking hot chocolate, reading a good book/mag..or even studying!

10. Massages!!!!

11. Manicure+Pedicure+Facial+Spa..pampervista! hmm..this probably isnt very 'simple'

12. The hustle bustle of Chinese New Year.

13.Small genuine compliments.

14. Beautiful photography/art done by good photographers/artists.

15.Good food.


OK, shall stop here coz 15's a nice round number.

I would do the 'strange/random/weird things about myself' one..but, as I said, I'm normal, I'm not strange/random/weird.

Hehehe..

OK, ok..shall attempt to go back to sleep now...

*hunts for my night shutter*

---------------------------------------------------------------------------------------

*opens my night shutter*

Attempt failed after 2 minutes.

Thought of putting up more pics from my Melbourne trip!

:D


St. Kilda's on Sunday, 26th Feb.



Wonderfully fantastically fun good pals! Love you guys! Muakz!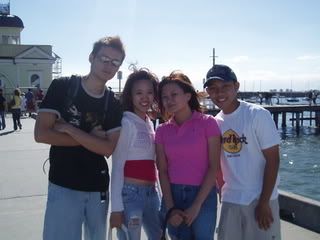 Gay couple + Les couple = Hot pic! haha.. Sai Meng (poser gila here!!), Me, Tina and Sing!!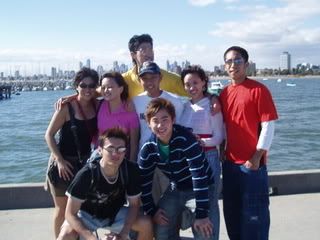 Group Photo!!!
Tallest guy in yellow shirt, Ivan. Middle row l-r: Anthea, Tina, Sing, Me and Daren. Front row l-f: Sai Meng and Eng Soon.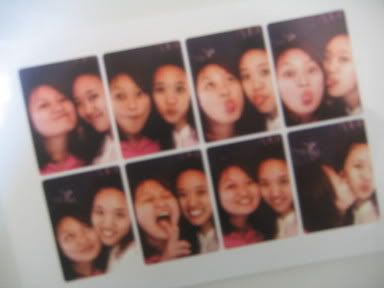 The small little photo booth hypnotised us. REALLY!!!We didn't know what we were doing!


Random-ness



Midori. Isn't it so dazzling?



OK, this was taken and sent to me by Pei Fei. The bunch of em went to the beach the weekend after I came back to Sydney.

Put it up coz I like Tina's pose - very diva-ish. :) and Pei Fei looks so macho/frightening. Haha..Anthea's posing like her own sweet self!