MARDI GRAS!!!
Yes, I went for the
famous gay+lesbian parade
last night! The parade associated with
feathers, colours
and
outragoeous outfits
..3 words for it..
FUN!!!

FUN!!!!!


FUN!!!!!!!
OK, when I first got there, I spent half an hr looking for Andry. The crowd was
MASSIVE!!!
Humans hath never more reminded me of busy little ants.
When I finally,
FINALLY
met up with Andry, we walked towards the the street, and Andry said..
OK, let's just watch the big screen. See! There! Not so bad right??
O_o
He didn't wanna squeeze his way through the crowd after he'd squeezed his way OUT to look for me.
I wasn't satisfied!
I didn't come all the way here just to watch the
BIG SCREEN!!
So I went as close as I could to see the street, but
all I could see were...
Yup, that was taken at
EYE LEVEL..
PPL were standing on
STOOLS!
What about
shorties like me?..

Poor shortie me
had to be contented with the screen for a long while, resisting the
urge to pinch
or
smack
the throng of
juicy butts
luring me..
Damn hard wei! All those tight butts! TEMPTING!
At one point, there was a
topless girl
prancing about on the
BIG SCREEN
. That was a
pretty normal thing
. But I heard Andry exclaiming..
Oh my gosh! She's Asian!
After a while, a
kind gentleman, drunk but nevertheless kind,
offered me his stool coz he was leaving. I
hopped on
without any hesitation!
And then all I could see in front of me were
heads.
-_-
I had to
stretch my hand up high
to
take videos
with my camera.
Good arm-toning exercise, I tell you!
Few of my favourite floats..
There was a
'United Colours of Bear-etton'
float, with the United Colours of Benetton logo, which reminded me very much of
Kenny Sia's condom review!!
Hehee.. what
appropriate thoughts
at a gay and lesbian parade!
United Colours of Bear-etton
..its rather long..
Egyptian dancers..
Brokeback Mormon
..a parody of Brokeback Mountain
Hand
wasn't very steady
coz
hand was tired!
Plus I didn't know what I was recording at all!! Couldnt very well look at my camera screen coz I had to hold my cam up high to record!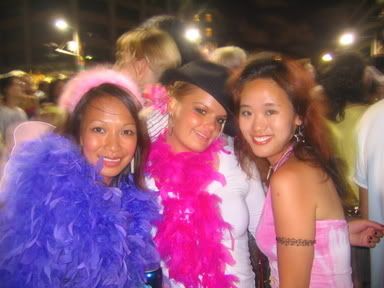 My
newfound crazy GIRLFRIENDS
to hang out with!!!
I WISH!!
Took photos with them coz they were
all dressed up
and stuff..
Girls from Manly..
Guy with FAIRY WINGS!!!
wheee..but can't see fairy wings in this pic..
:(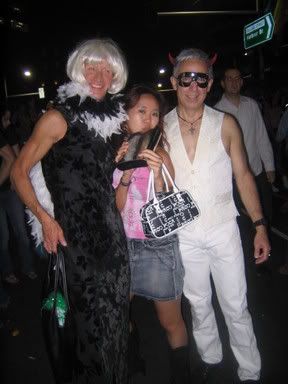 You see the
guy in black dress?
I grabbed his boob!!
Hehhee.. Almost walked away with that
gigantic flask
they let me hold on to! They were
very very friendly!!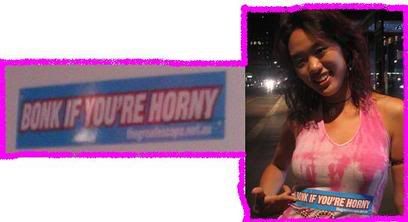 I saw that sign on a make-shift toilet and then started seeing them on
girl's boobies
. I asked a girl where she got them from and her guy friend
took his off and gave it to me
. Sydney ppl are so nice.. :)
Earlier that day..
Coogee Beach!
Bbq on the beach with
MSO, the UNSW Malaysian Society..
Few random ppl from
MSO
. I think that the guy on the
left corner
in black shirt looks a lot like
Alif
.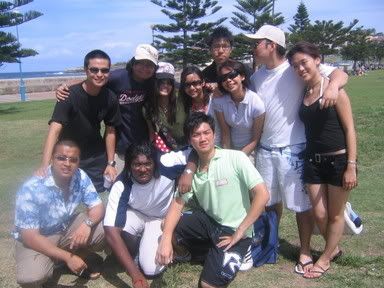 hung out with
crazy Samuel!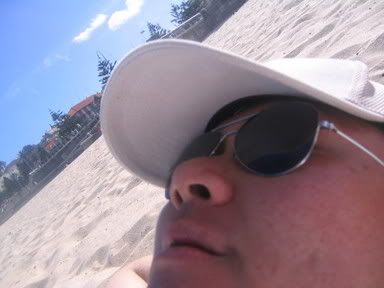 He was my
personal radio
, entertaining me on the beach while I relaxed..
Havin fun with
sunglass reflection!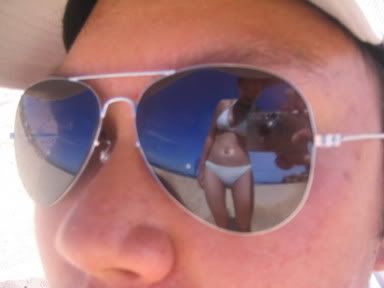 Got
DAMN sunburnt!!
Painful!!!
*whimpers*
Need. some. TLC.
Was talking to Mel just now, and I realised that I am
SO not a light packer!
For my
10-day trip to Melbourne
, I brought..
4 pairs of shoes4 pairs of long pants2 shorts1 denim jacketmore than 10 topsa pouch of accessoriestoiletrieschargers
*eek*!!