Melbourne.. DAY 1!!
Since I was a kid, I've
ALWAYS
loved the
AIRPORT.
. I felt like I belonged. I feel at home there. It signals the beginning of a new
place
, new
journey
, new
adventure
, new
experience
, and most importantly,
FUN, FUN, FUN!!!
Going to
Melbourne
for the first time from Sydney was no exception. Checked-in early and waited at my gate. Took some pics while waiting.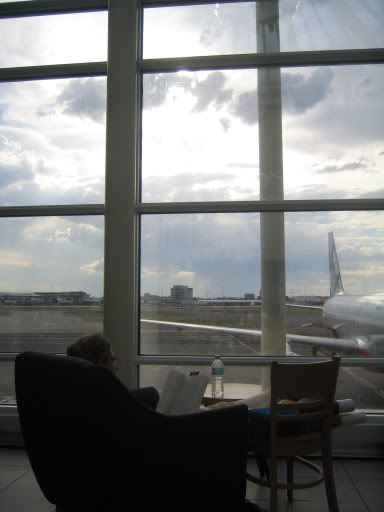 Beautiful view I fell in love with!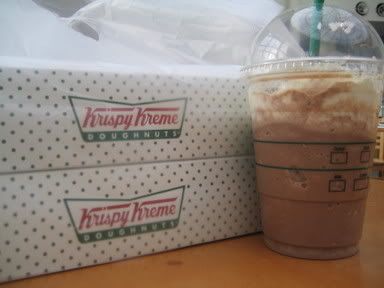 Krispy Kreme!!! *droools*Hmmm..so, I've got another 45 mins. Alrite, will buy a mag to read. hmmm..Cleo, New Women, Times..oooo..Cosmopolitan looks bright and colourful!!!
*buy mag and sit down, flipping through the mag*
Wow! That dress looks really nice!! Hmmm, I wonder where I can buy that! Ooo, wow! I didnt know you can wear 2 tampons at the same time! The average celebritty height??165cm..HEY!! I'm not that SHORT!! Muahahha...*hop hop*....
..........
..........
..........
*phone rings*
"Hello? uh huh.. mm..yea, I'm alone at the airport.."
*walks to check my flight 'status'*
*eye bulges and heart stops!!*
FINAL CALL!
EEEK!!! Its not easy grabbing a hand carry
luggage
, a
huge
bag of
Krispy Kreme
, my
handbag WHILE talking on the phone!
Phew..made it
JUST IN THE NICK OF TIME!!
was the
3rd last
passenger to board!! Talk about close calls!!
I hope my dad doesn't read this.. OR he'll go reprimanding me again... and I'm
SURE
its for my own good!!
OK, fast forward...
Tina's place!!!!
Tina's bed, mine(ahem..the floor), and Anthea's
I just love their bedroom!!! SOOo
COLOURFUL
and
BRIGHT!!!!!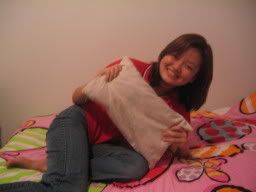 Look!! Tina with her BABY PILLOW!!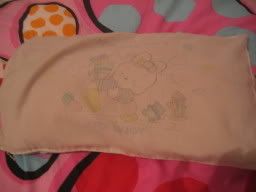 Baby pillow up close and personal!
YOu know how everyone has a
baby pillow
where you absolutely cant sleep without?? That's Tina's!! My lil bro's is
red
with
white polka dots
all over. Hehe..
OH, and my
FAVOURITE
item in
TINA'S ROOM???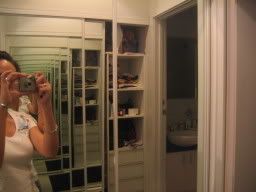 *double drool!!* EVERY girl's DREAM!!! Wardrobe with sliding mirror doors!!
How cool is that??!!! Gosh, that's like
little paradise
for me man!! I wish I had that!!
Erm..Daddy!!!!
DADDYYYY!!!
I PROMISE I'll be a good girl!! I PROMISE!!
I PROMISE!!!
*big puppy eyes*blink*blink*
So, my 'tour' started today. Went to
CHADSTONE
to
SHOP!!!
Won't disclose how much I spent or what I spent it on.. *cough*cough* .. its not much.. really..
I mean,
REALLY!
Interesting buildings I encountered on our journey to the SUPER HUGE shopping mall!!
After shopping was
Chinatown
.. Stumbled upon an
interesting Restaurant
..
Pei Fei!!
And..dinner was at
SHANGHAI DUMPLING!!!
Lemme show you part of the menu!!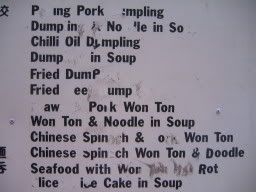 Yes, some
Ping Pork Impling
would be good.. or would the
Dump in Nole-in-So
taste better?? OOO...
FRIED DUMP
probably tastes pretty good too eh?? Oh, maybe for dessert I can have
Lice i.e Cake in Soup!!
Wait, there's more!!!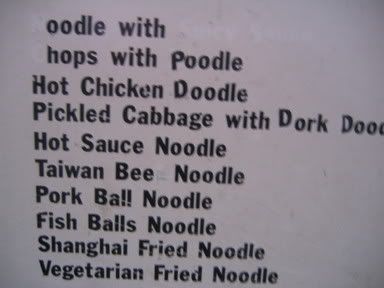 I wish I could
'Hops with Poodle'
right now and gather some
Hot Chicken Doodle
.. maybe even get some sting of the
Taiwan Bee Noodle!
Or have some
Pickled Cabbage with Dork Doodle
..
*shakes head*
Such tough decisions we have to make nowadays.. tsk tsk tsk..
Thanks to Anthea and Tina, we ended up filling our growling tummies with
scrumptious dumplings
and
noodle soup!!!
MMMMmmmm... food there IS nice!!
HIGHLY RECOMMENDED
when you come to MELBOURNE!!
Pei Fei and Anthea.. Tina's house and room mates respectively!
My darling Tina and I!!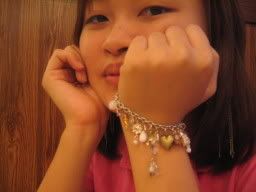 DO you like Tina's BRACELET?? DO YOU?? DO YOU???
I bought that charmbracelet for
Tina's bday
. She wanted the one from
Juicy Couture
, but they werent selling it anymore. So I tried to find the most similar charmbracelet for her! Hope you really like it TINA!!
That ends
DAY 1
of my trip to Melbourne.
9 more happy fun-filled wacky days!!!WHEEEEEEEEEEEEEEEEEEEEEEEEEeeeeeeeeeeeeeeeee.....