Happy Day!
Wanted to watch the
Da Vinci Code
and started messaging
Alex, Carmen, Chris, John, Mike, Peter
and
Ziv
.
Alex
decided that its more worth it spending his time with Pinky, and so, ditched us.
Chris
never replied.
Peter
had to work on an assignment. So did
Ziv
.
In the end, it was just
Carmen, John, Mike
and
I
.
Carmen
was going to King's Street to get a top that she really wanted.
Only, she was
2 weeks late..
The top was so popular, it was
SOLD OUT!
I reckon that should never ever ever happen to something you like so much!
Anyway, since she had reserved cash for shopping, we decided to get something anyway and headed on down the street.
We saw
shoes.
It was
2 pairs for $49!
"Shuen! Remember! You've gotta save for the Melbourne Trip!! No shopping! NO SHOPPING, Shuen!!"
I told myself.
But the lure of the shoes were strong,
the
temptation
... the
hypnosis
...
I am strong
..but the (temptation of the)
shoes were stronger!
And so.. I ended up buying 2 pairs of shoes..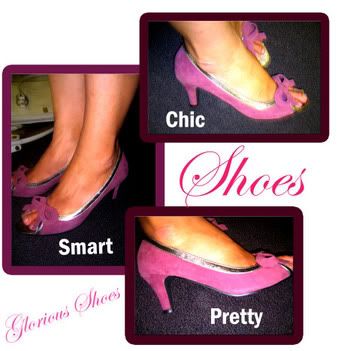 --------------------------------------------------------------------------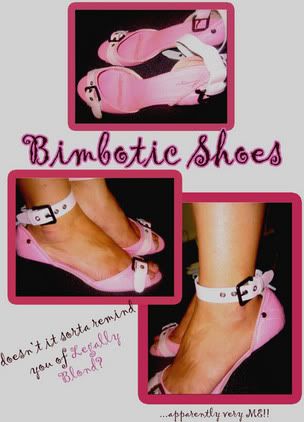 When
Carmen
saw this pair, she immediately pointed it out to me and said that's
'so ME'.
When I proudly showed off my goods to
Yolanda
, my housemate, when I came back, she immediately said,
"That shoe is very YOU!"
Wth?
-------------------------------------------------------------------------------
Da Vinci Code was SOLD OUT!!!
Never would I have imagined that there would be
SOLD OUT
tickets to a movie in
AUSTRALIA!!!
NO ONE ever watches movies here!!!
I was all hyped up for
nothing!
How upsetting..
But the night turned out to be good anyway!
We went to
Badde Manors
on Glebe Point Road for 'dinner'.
I tell you,
random bonding chats with friends are the best!
Ohhh, and I've gotta say this..
Badde Manors serves one of the BEST
Choc Mud Cake
I've ever eaten!! Didn't take any pics of the Mud Cake, unfortunately.
I'd expected
nostalgic memories
to pop up as I walk down Glebe Point Road, but I was fine.
I was fine.
I guess that meant that I've gotten over everything and am happy with this phase of my life right now.
People who were there at
Badde Manors.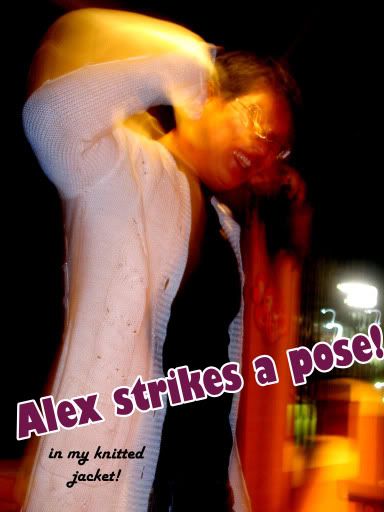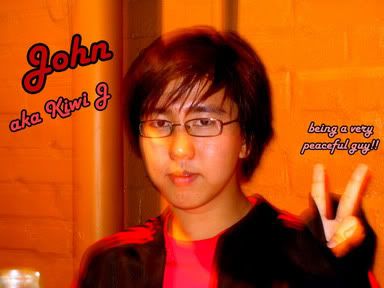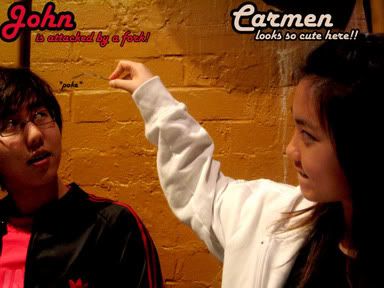 Mike is very proud that he knows Malaysia's home of the
Petronas Twin Towers're
AND
that we have a high-tech chip in our IC, which also known as
MyKad
.
-------------------------------------------------------------------------------
Sometimes I wonder..
what goes on in my head!
A few random conversations I had today:
With
Carmen

..
Those pink shoes look REALLY nice!
Yea! It does right?? But.. but.. it looks so BIMBOTIC!!!
*in best comforting voice* No, its NOT!!! Its alright!!
But.. but.. its even more perfect if its bimbotic! Then it'll be.. bimbo shoes for a Bimbo!! :P *kekeke*
O_o SHUEN!!!!!! *smack* :D
While
chatting after dinner..
Alex said,
Yea, its like a handful of sugar!
and I immediately burst out proudly singing,
A handful of sugar makes the medicine go down, makes the medicine go down, makes the medicine go down
..
Everyone at the table,
O_o
What?? Isn't that the Mary Poppins song?
Shuen.. its a SPOONFUL of sugar! Not a HANDFUL! You know how much a handful is? A HANDFUL of sugar doesn't make the medicine go down!
Oops.. Hehehhehe... :D