Sydney..
Yes, ppl. The lack of blogging in the past 30 hrs says something.
I actually
HAVE A LIFE!
:)
Hehe.. Went out to meet my cousin, Mey Ern who came to Sydney yesterday with bf, Vincent.. Felt soo good to have familiar faces around again! You know that warm fuzzy feeling, and the excitement of it all til you just wanna jump up and down?
Well, we met up at Chinatown at around 12. It was the HOTTEST day ever!
The only pic I have of Chinatown. Was passing time, waiting for them.
Had lunch at Market City.
Pretty faces! :p Me and cousin Mey Ern at the foodcourt.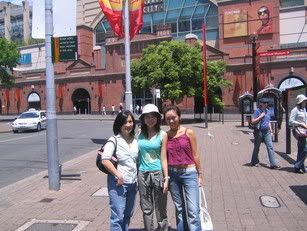 There's a pic of Market City behind us for you. From l-r : Aunty Shu Fun(Vincent's aunt), Mey Ern, Shuen.
Proceeded to walk to Darling Harbour, on the way to Star City to collect Vincent+Mey Ern's Blue Mountain trip ticket.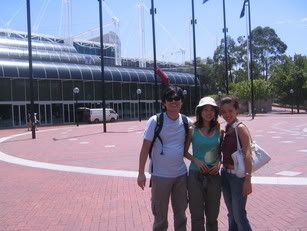 Meant to take the building coz it looked like it had masts. Forgot the name of the building. Was on the way to Darling Harbour. That's Vincent, Mey Ern and me
Eh?Suddenly in China?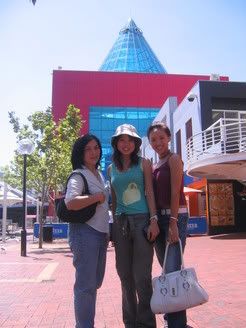 And Egypt?with modern pyramids?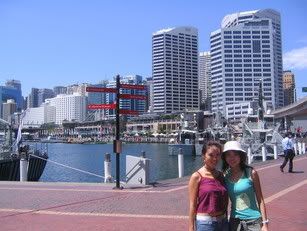 Back to Darling Harbour.
Finally got to Star City at about 4. My legs were aching terribly! The heat was getting to me. The sun sapped up watever remaining energy I had left in me after a fateful 'morning call'. See
last entry
.
Hmm, after browsing through all the pics I took yesterday. I came up with a conclusion.
NOTE TO MYSELF :
Never wear stiff-materialed tops that hang off my boobs. Creates the ILLUSION that I'm fat. When I'm really not.
It was a long tiring day. Now even as I'm blogging, I still feel exhausted, tired, my body aching all over. So, please excuse me for the rather mediocre entry today. Will write more when I get better.