Funny Pics..
went for a wonderful breakfast this morning at bronte.
that was 1.30pm
we were debating whether or not french toast with bacon and maple syrup tastes good(honestly, when i first heard of it, i immediately gagged, and felt like throwing up). karina and tim reckons it tastes GREAT.
Being that very brave soul that I am, I set out to on a quest I have yet ventured on. Only brave souls would try something as yucky sounding as this. Only brave souls would go forth without thinking of the after taste. Never before have i heard of it nor have i seen anyone do it. And I, Shuen, am proud to say that I've done it!
I tried my very first french toast with bacon and maple syrup!!!
:)
if you're wondering what it tastes like, its like sweet french toast, which to me is always good, plus bacon..its actually surprisingly good!!!or at least tolerable, for those who cant imagine it right now..i wasnt completely satisfied afterwards though, still had room for more food.
went for a wonderful walk along tamarama aka glamourama to bondi to appreciate art. yes ppl!!i went there for an art exhibition!i have no freaking idea about all the theory and interpretation of art watsoever, i have never taken art before..(if you dont count the ones you take in primary school where all they seem to do is just to encourage you to waste time talking and socialising)..having that said, i still feel refined when i actually go around looking at art pieces.. and i have no idea how you're supposed to enjoy or appreciate art, but i like looking at all those stuff!i managed to take pics of a few art pieces, before my batt ran out(it always seems to happen at the most importune times!)..here are some of em
Mind of a suicidal person : 'you know, i can actually have FUN right before i die! i'll run and jump over hurdles, right before i hop over the cliff into the rocky ocean down there! sounds like a good plan.. :)..i bet no one's killed themselves this way before!damn, i'll even make it to the guiness world of records as well! how cool is that?!'
oh no!i've shrunk!!and i thought i was tiny enough!
*Fee-fi-fo-fum..i smell the blood of a hot little asian girl!!*
sh!t!i knew i shouldn't have tried on his sandals and look so happy doing it!where to hide now??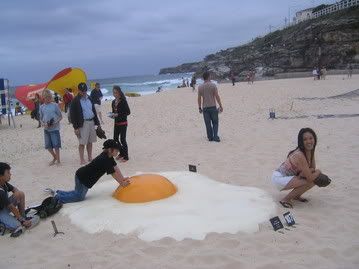 i think i just laid an egg!!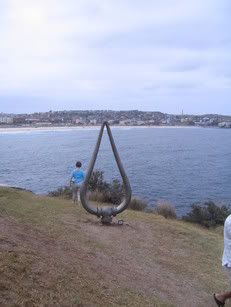 this piece reminds tim of a pussy...you think?i wish i knew how to photoshop now, so i can put two legs beside it.. :)
that, my frens, was my wonderful day today..beautiful morning breakfast/brunch then a stroll along the cliffs, admiring beautiful pieces of art..
as we were walking, karina mentioned this art piece in an exhibition somewhere where the exhibition comprised of
..an unmade bed
..messy desk
..and rubbish..
it was ruined when someone emptied the trash can..
you think my rooom might make it to the art le louvre someday?